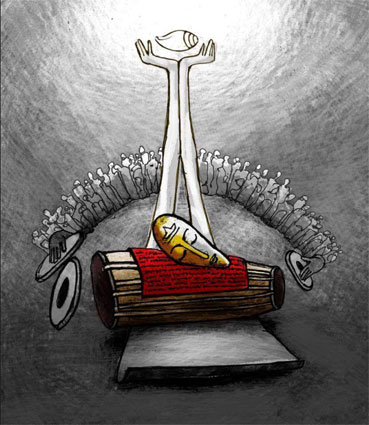 Poem by Soumen Chattopadhyay
Drawing by Sanjay Mitra
Translated by Sipra Chattopadhyay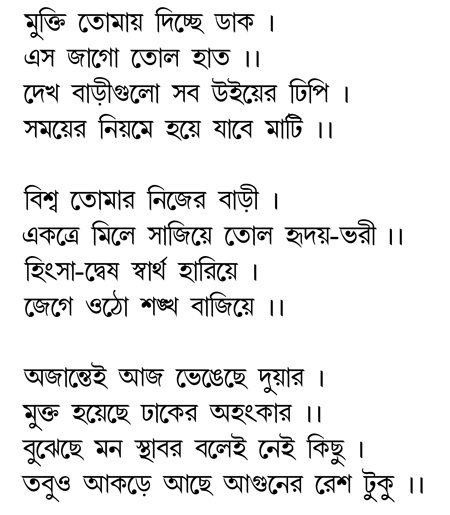 Mukti is calling to you,
Come and raise your hand,
See the houses are turned into white ants mound
With the laws of time it turned into soil.
The world is your own house,
Unites and decorates it heartily
Let the zealous and envious mind away,
Wake up with the sound of the conch.
Unknowing the door is breaking today.
The drum has freed from its vanity.
Our mind understood nothing is everlasting.
Yet we clutched the bits of fire.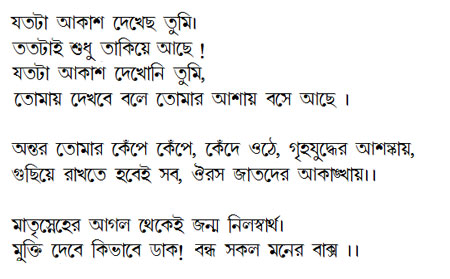 As far the sky you see.
That extent only viewing at;
As far the sky unseen to you.
Cherishing hopes to see you.
Suspecting civil war, your heart shakes, weeps.
Properly arranged for legitimately born longing,
Motherly affection creats self-interest.
How Mukti will summon? Obstruct all minds encase.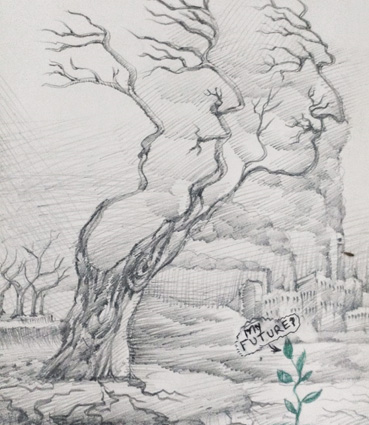 Drawing by Samraj Sinha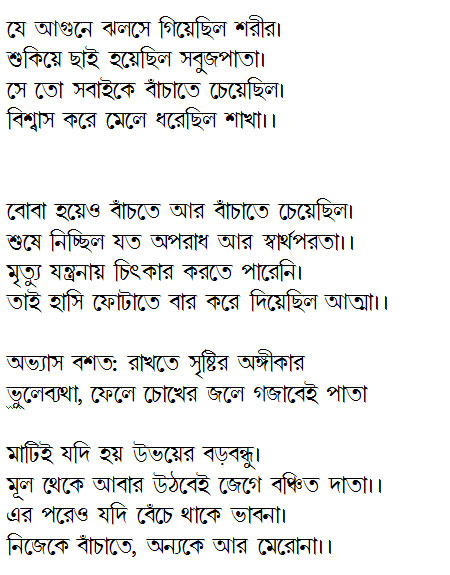 The fire that scorched the body ,
Green leaves became dried ash .
It wants to save all of us ,
With trust stretched its boughs .
Inspite of dumbness it wants to live and let live,
Absorbing all crimes and selfishness.
Though it unable to cry with death-agony,
So to bloom laugh let out the spirit.
Habituated to keep oaths of creation,
Forget agonies, with tears will grow leaves.
Provide the earth is the best friend of both ,
From the root again awake the neglected giver.
After that if thinking remains alive ,
To save thyself not kill the others.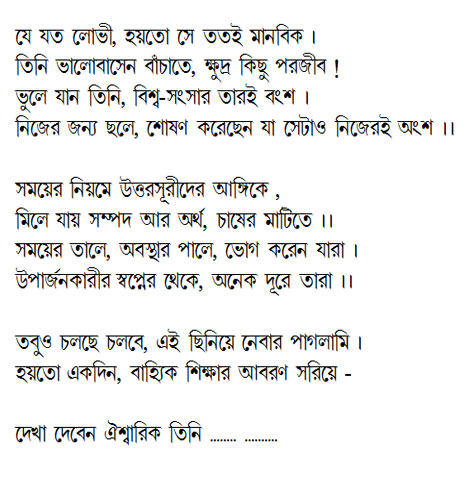 Who is much greedy, perhaps he is humanistic,
He loves to save, some tiny parasitic !
He forgets the world-family is his lineage ,
For himself, tactfully tortured, which is his own.
Due to time law for the next generation,
Gained wealth, money in the cultivation's earth (soil) .
With the time-tunes, condition -sails, who are enjoyed ,
From earner's dream they are far away .
Yet go on will go on this snatching madness ,
Perhaps one day removed the outward education's covering –
Will comes the God …………. ……………